It takes a special kind of magic to make South Dakota the pandemic poster child. With only eleven people per square mile, the state has almost the lowest population density in the country (46th out of 50). That translates to an average social distance of about 1,500 feet. Sounds like an easy place to keep a pandemic in check.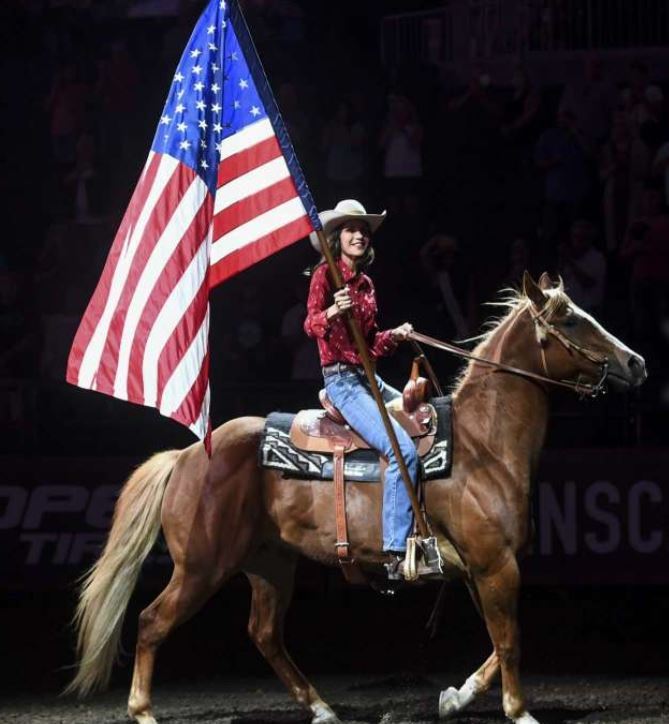 Enter Governor Kristi Noem.
Not only was Noem one of the few governors to refuse to issue either stay-at-home or mandatory mask orders, she has actively encouraged unmasked public gatherings without social distancing. Even an outbreak of 450 cases at a meatpacking plant in Sioux Falls wasn't enough to sway her. Instead, she hosted the President at a Mt. Rushmore 4th of July event. No masks. No distance. No problem.
What was she thinking? As she put it in her recent speech to the Republican National Convention, no "elite class of so-called experts" was going to infringe on the "God given liberties and civil rights" of her constituents. For a while, she seemed to be getting away with it. Then, two weeks after the Trump rally, the story began to change. Between July 18 and August 8, the average number of cases per day in South Dakota rose by 80%.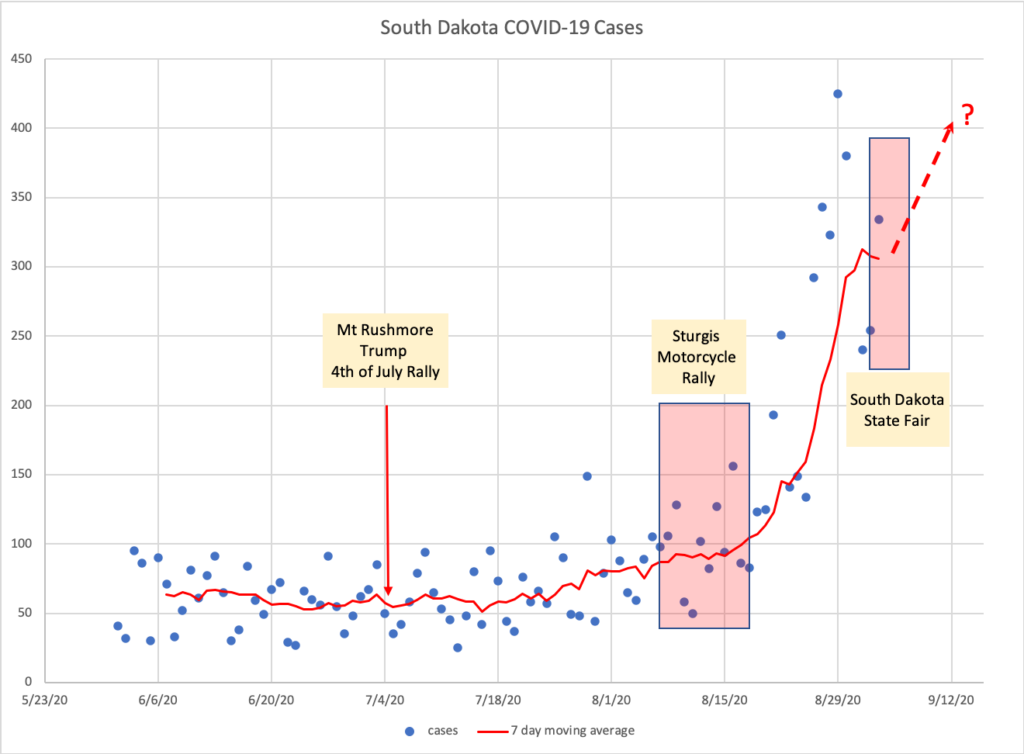 And then, there was Sturgis.
Motorcycle Madness: Six Sure Fire Ways to Perpetuate a Pandemic
There is general consensus among epidemiologists that the following steps will control the spread of SARS-COV-2 and minimize its impact.
Avoid large gatherings.
Minimize the time spent in close proximity to people outside your household.
Protect older adults.
Wear a mask when away from home.
Do not share food and drink with others.
If you may have been exposed to the virus, do not travel.
So maybe, just maybe, bringing together hundreds of thousands of people with an average age of 54 for a ten day booze-soaked party in a state where the Governor calls masks a waste of time, and then, when it's all over, sending them to their homes in every state in the country, is a bad idea. Welcome to Sturgis. Violating all six rules for ten days struck most epidemiologists as a bad idea. Now, the data seem to confirm this concern.
The number of COVID-19 cases has exploded in South Dakota, quadrupling in the four weeks since the start of the rally. And these are probably the result of secondary spread among local residents who attended or worked at the rally. Most of the cases are happening elsewhere as suggested by this remarkable video, which used anonymous cell phone data to track movements of those attending the rally. It shows that people came to Sturgis from every state in the union. We will never know the full toll of this rally, but the cases in South Dakota and the death just reported in Minnesota are the merest tip of the iceberg.
Too Long at the Fair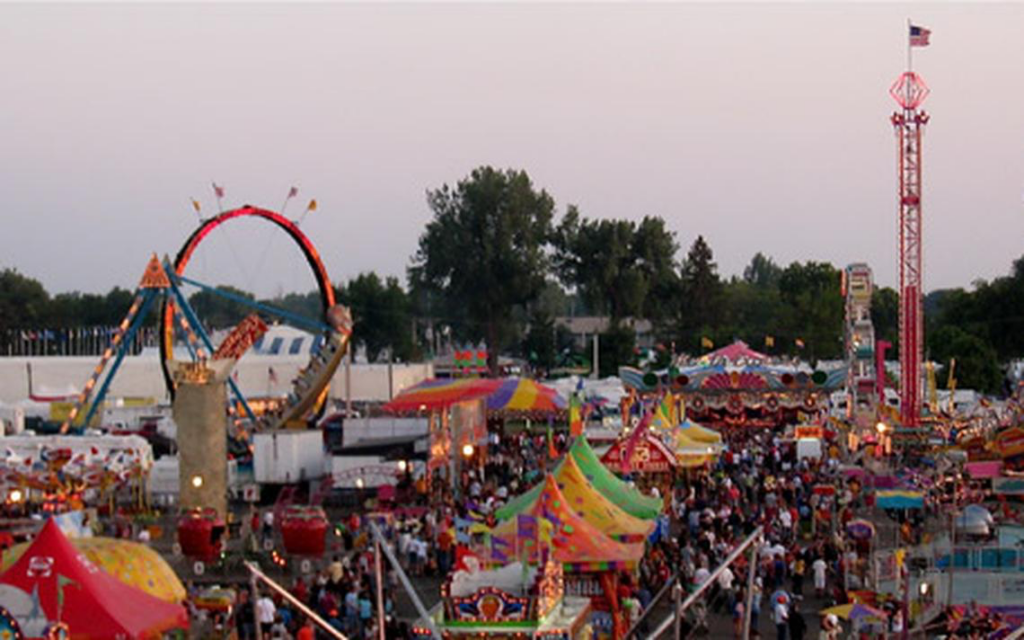 One would think that a quick look at the data above would have educated Governor Noem as to the perils of large gathering. Except it didn't. Just one day after the death in Minnesota, South Dakota kicked off its State Fair. At the opening night rodeo, Kristi Noem rode across the arena carrying the American Flag to a standing ovation.
Noem argues that death rates and hospitalization rates have not spiked in the state. There are two problems with that position. First, deaths don't tend to rise until two weeks to a month after a rise in cases. Second, death is far from the only bad outcome. There is increasing evidence of long term adverse effects in those who survive COVID-19. Of particular concern is emerging evidence concerning damage to the muscles of the heart.
Wear a Damned Mask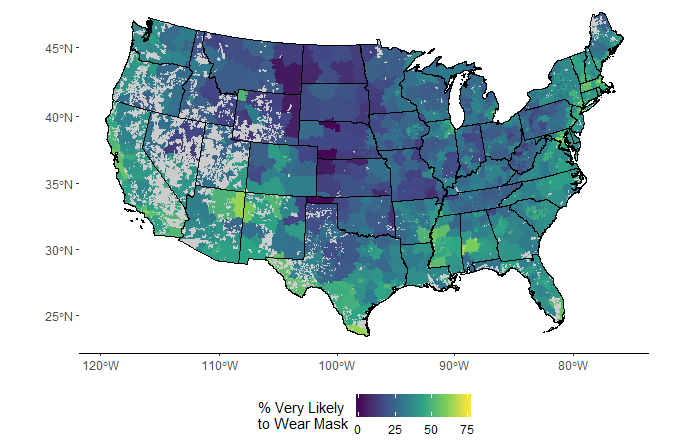 The real puzzle in all of this is the reasons for the resistance to masking and the insistence on large gatherings. A recent study demonstrated dramatic changes in the ability of COVID-19 to spread with masks and social distancing. That same study included the map above, showing that the northern plains states were particularly resistant to the idea of using masks. The President routinely disparages mask wearing, both in his words and by example. Noem is a loyal follower. The consequences are likely to be deadly.